In an exhibition, there is what you see, but also what you don't see. What we see at the Louis Vuitton Foundation in Paris are eighteen works by Claude Monet (1840-1926) and thirty Joan Mitchell (1925-1992) for the part that confronts them, and about fifty more for the part devoted to the American alone. What we don't see is the work that brought them together. We should salute both: the teams of the foundation have succeeded, under the direction of Suzanne Pagetwo small feats.
The first is a hanging by Joan Mitchell like you've never seen, except to have gone to the Museum of Modern Art in San Francisco or the Museum of Art in Baltimore, co-organizers of this retrospective. The second is no less impressive: certainly, the Louis Vuitton Foundation benefited from the help of the Marmottan-Monet Museum which lent its "Water Lilies", but it was a challenge to manage to unite the three panels of Agapanthus, painted between 1915 and 1926 by Monet, dispersed in three American museums (Cleveland, Saint Louis and Kansas City) and never shown together in France until then. With its 12.80 meters in length, this triptych rivals the large "Water Lilies" of the Musée de l'Orangerie.
We will add the exceptional authorization of the lenders to unframe the Monets, which allows them to be seen fully and without interference, and the gathering in a single room of ten of the twenty-one paintings from the cycle of "La Grande Vallée", painted by Mitchell between 1983 and 1984, which have until then only been shown together during the exhibition dedicated to him by the gallery owner John Fournier in 1984.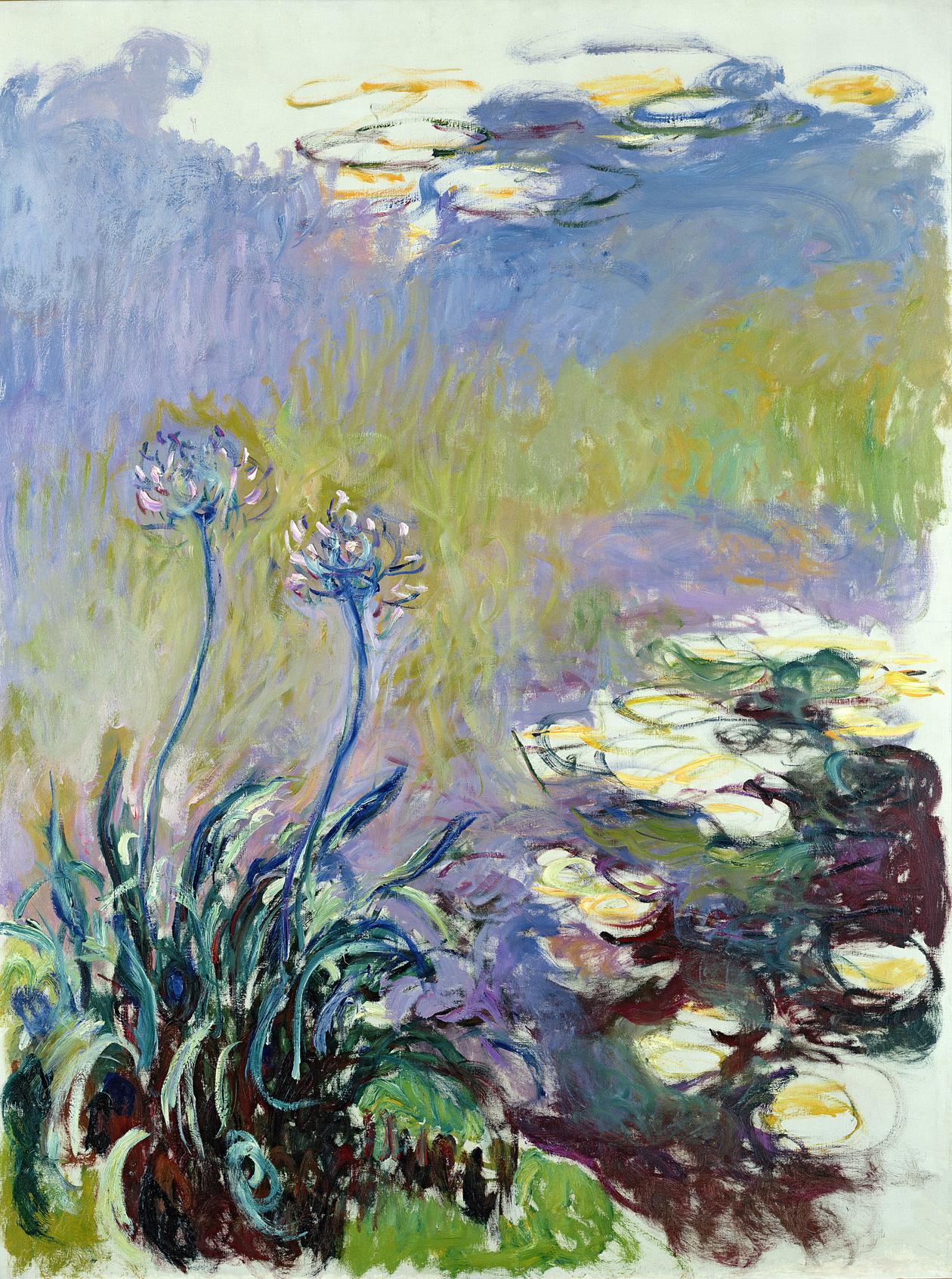 All this for what ? First to make the main interested party scream post-mortem! During her lifetime, Joan Mitchell rebuffed – and the word is weak because she had a damn character – the unfortunate people who dared to compare her work to that of Monet. Among his "influences"instead, she claimed Van Gogh (she herself painted sunflowers, but giant ones), Cézanne and Matisse, in that order. Still we must not exclude her contemporaries, Willem de Kooning, Franz Kline and Philip Guston, who had the advantage over the previous ones of being able to drink a glass or two (often more) with her at the Cedar Tavern, the now legendary bar in New York.
An unconscious who would have made the mistake of insisting, emphasizing for example the geographical proximity of their respective workshops in Vétheuil (Val-d'Oise) – where Monet lived before settling in Giverny (Eure) -, would have seen chase away, bombarded with empty bottles, unless she unleashed on him her German shepherds that she adored, but not to the point of forbidding them to chew an art critic…
You have 71.69% of this article left to read. The following is for subscribers only.